With Halloween approaching, many dog owners may be thinking of how adorable their pet will be in a Halloween costume. For those of us that do everything with our dogs, why should the Halloween festivities be any different? If you're thinking about taking your dog along for trick or treating or simply letting them roam the house all dressed up, we've got some costume ideas that may work for you.
Food
1. Hot Dog:
This one is a classic. No matter how often we see it, a hot dog on a leash continues to make us smile. While the obvious choice would be a weiner dog, any of your pups could transform into a walking hot dog with nothing more than a simple hot dog bun wrapped around them. Some of these costumes include a line of ketchup or mustard. Whichever condiment adorns your dog, the hot dog costume is a delicious choice!
2. Avocado: 
It seems like avocados are everybody's new favorite food, but, of course, we will always love our dogs. If you are a part of the avocado craze, why not combine two passions into one with an avocado costume for your dog? Treat your dog to an avocado Halloween costume and they will seriously look like a snack. 



Stealth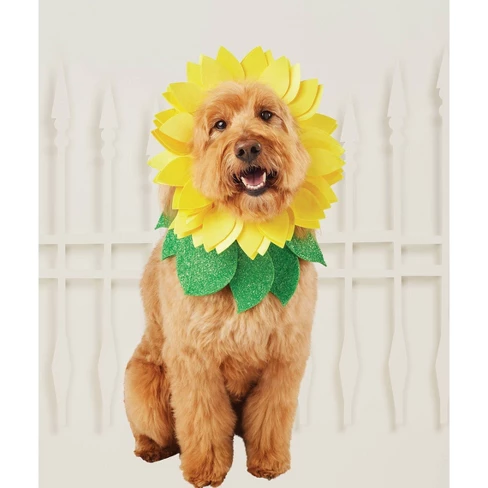 3. Sunflower: 
This costume will allow your dog to completely blend in and get lost in their surroundings, as long as you're taking them out to a field of sunflowers. In the dark streets on Halloween ,however, your dog will stand out as the beautiful part of nature that they are. This floral costume is simple, so it's perfect for a dog that doesn't really like wearing costumes. 4. Leaf Pile or Bush: 
With nothing but a whole bunch of leaves all over your dog's body, you'll have the perfect disguise. Others within the trick or treating scene will be surprised when they notice that what they believed to be an innocuous leaf pile or bush is walking around. We think this is a really clever way to dress your pet up for Halloween by activating their stealth mode.


5. Delivery Person: 
There's multiple styles of this costume to choose from. Your pet could work for USPS, UPS, or even the online pet store, Chewy.com. Provide an excuse for them to be at the door, begging for treats, by dressing up your dog as a delivery person. It is sure to deliver a surprise.



Costumes to Match
6. T-Rex: 
We've all seen that inflatable T-Rex costume. It seems like it's all over the place! But did you know that a matching costume is available for your dog? If you have a furry friend that likes to think of themselves as ferocious, let them join the dinosaur pack with a T-Rex costume. People will at least be impressed by the fierce cuddles.



7. Gold Fish: 
There's nothing fishy about this costume choice for your pup. If you dress your dog as a shimmering gold fish, you can dress as a fisherman, ready to show off your great catch, a mermaid, hanging out with a friend from the sea, or a shark, chasing after your snack. A gold fish costume can really make a splash as part of a matching costumes plan.



8. Porg: 
Are you a huge Star Wars fan? If so, you have so many Star Wars costume options to choose from that would allow you to match this absolutely adorable one for your pup. Porgs are one of the cutest new creatures to join the Star Wars franchise. If you dress your dog up as a porg to match a related Star Wars outfit, the two of you will certainly be a force to be reckoned with.




Super Cute
9. Butterfly: 
A simple pair of wings is all it takes to transform a dog into a beautiful butterfly. You don't have to wait for any cocoon transformation time. Just slip on the wings and maybe also a headband with antenna and your dog will be ready to soar. Butterfly wings come in many different colors, so you can find a style that fits your pet's colorful personality perfectly.


10. Doggie in a Basket: 
What could be cuter than the idea of a doggie in a basket? If you have a really small dog, creating the look is as simple as placing your dog inside of a basket. With the doggie in a basket costume though, even a very large dog that could not be easily carried can achieve this cuteness.




Hopefully, these costumes have given you someplace to start in deciding how you will dress up your pet. Of course, you can always get creative with it, as long as your dog has a good time. 
As you plan your pet's Halloween fun, be sure to keep in mind their safety and comfort. Nobody wants the fun ruined by a costume mishap, so avoid costumes that your dog may be tempted to eat or that might provide a choking hazard. And if your dog doesn't seem to be into dressing up, don't force them into a costume. As long as you stay safe, Halloween can be a great time for both you and your pet.