Apart from eating all the candy we can get our hands on and decorating our yards with skeletons and cobwebs, tons of people love to dress up their pets for Halloween. With the best holiday of the year soon upon us, it's time to think about costume planning. For cats that don't mind getting all dressed up, we've got ten of our favorite Halloween costumes for our feline pals. See if your cat might like one of these styles!
Spooky

1. Witch:

Usually people think of black cats as a Halloween staple, but usually they play the familiar. A companion to your favorite witch costume. But why not take on the role of witch themselves? With a simple cape and the classic pointy hat, your cat will be ready to brew a whole shop of potions and cast a few spells.





2. Bat: 

A pair of wings is all that separates your feline from being this fellow creature of the night.This costume works especially well if you have a black cat, who will look fantastic with a pair of black bat wings. However, you can take flight with this costume idea no matter what kind of cat you have. They all make great bats.



Animals

3. Mouse: 

We love the interesting twist provided by this costume. On Halloween night, your cat might take a moment to stop chasing mice and instead become the mouse. Maybe this will allow them a chance to get inside the mind of their prey or allow them a greater sympathy for the rodents they chase. It might also just be fun to see a cat wearing a cute mouse costume on Halloween.





4. Turtle: 

Do you have a tortoiseshell cat? Throw a turtle shell onto them and they can actually be a turtle for Halloween. Of course, this costume idea works well even for cats with different types of coloring. It's easy to simply place a shell onto your cat's back and complete the look. They can then pop on out for trick or treating as the cutest little turtle.




Food

5. Taco: 

Did you know that tacocat spelled backwards is still tacocat? People find this fun fact so amazing that they have even made t-shirts about it. Maybe you could wear one to match with your cat when you put them in a taco costume. This is a delicious choice for your cat's costume. It certainly builds up our appetite for the Halloween celebrations.





6. Pizza: 

Another tasty option for your cat's Halloween attire is a pizza slice. Pizza is one food that nobody can dislike, so dressing your pet up as a slice of it should make them just as irresistible as the meal itself. Get a piece of the crowd-pleasing pie with a pizza costume for your pet. Everyone will love it!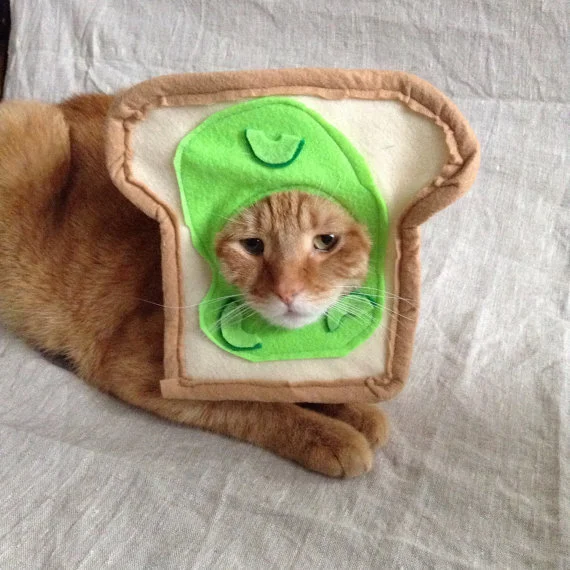 7. Avocado Toast: 

This tasty trend could also make for an interesting costume option for your cat, showing off your favorite lunch food for your Halloween guests. Even if you aren't a huge fan of avocado toast yourself, it could still be pretty funny to get this costume for your cat. Dressed as avocado toast, your pet will really look like a snack.




Characters

8. Cat in the Hat: 

An easy Halloween look is the Cat in the Hat. You already have a cat, so all you have to do is add on a hat, specifically a red and white striped one. With a small costume piece, your pet will look like they've just popped out of the children's book. If your kids match, dressing as the boy and girl from the book, you can have a fun costume plan for the whole family centered around your furriest family member.





9. Nyan Cat: 

Nyan Cat made its rounds on the internet years ago, but it's still a recognizable look that your cat could imitate. Even if people don't get the reference, you'll still have a cute little poptart with a rainbow tail on your hands. Your cat will look so adorable with this throwback costume of Nyan Cat.





10. Puss in Boots: 

The Puss in Boots character is one cool cat, and we think that most cats would look pretty good rocking the look. Your cat doesn't even have to be enthusiastic about waltzing around in boots. All the Puss in Boots costume requires is a cute pair of booties, a cape, and a fancy hat. Whether your cat references the old fairy tale or looks a bit more like the character introduced in the Shrek movies, this is a fashionable look that just never goes out of style. 




We hope that you and your cat have a terrific time celebrating Halloween, whether you dress up as one of our ten favorites or decide to think up something else.

Whichever costume you choose for your kitty, always make sure to keep the safety of your pet in mind. A lot of cats don't like having clothes put on them and an irritated cat will not make for a fun holiday. Keep things enjoyable for everybody by making sure that your cat is comfortable in the costume you get for them and that there are no pieces that might hurt them. In the end, Halloween should be fun and not stressful, both for you and your kitty.